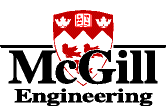 3480 University Street, Montreal, Quebec, CANADA
---
McGill University
Department of Electrical and Computer Engineering

In accord with the McGill University Charter of Students Rights, students in this course have the right to submit in English or in French any written work that is to be graded.

Academic Integrity

McGill University values academic integrity. Therefore, all students must understand the meaning and consequences of cheating, plagiarism and other academic offences under the code of students conduct and disciplinary procedures (see academic integrity for more information).



ECSE-411A COMMUNICATION SYSTEMS I (Fall 2013)
<![if !supportLineBreakNewLine]>
<![endif]>
General Information:
Instructor:

Prof. H. Leib, Tel. 398-8938, Room 757 ENGMC
email : harry.leib@mcgill.ca
office hours : Wednesday, Friday, 15:00-17:00

TA:

Mojtaba Vaezi

Tutorials:

Thursday, 10:05 – 11:00

Markers:

An Jiang, Xiao Shao

Text book:

Fundamentals of Communication Systems, by :John G. Proakis, Massoud Salehi, 2nd ed. Pearson, 2014

The following sections are essential for this course:

Chapter 1

Chapter 2

Chapter 5

Chapter 3

Chapter 4

Chapter 6 sections 6.1 - 6.3

Chapter 7 sections 7.1-7.4, 7.6, 7.7

Chapter 10 sections 10.1-10.3

Chapter 8 sections 8.1-8.7

Chapter 9 section 9.1

Final mark composition:

Two term tests of 1.5 hours each (closed book and notes) 2 x 20%. Final exam (closed book and notes) 60%.

First Class:

Tuesday, Sept. 3, 2013, Room ENGTR 0060
---
Course Outline:
This is an introductory course in communication systems, and its objective is to provide a solid foundation in the areas of analog and digital information transmission techniques. The necessary prerequisites are fundamentals of signals and systems, and probability theory. The following subjects will be covered in the course:

1. Introduction (2h)
a) A model for communication systems.
b) Analog and digital systems.

2. Review of signals and systems (4h)
a) Time and frequency domains.
b) Hilbert transform and complex envelope representation of signals.

3. Review of probability and random signals (4h)

4. Analog modulation (5h)
a) AM, DSB-SC, SSB, VSB, FDM.
b) generation, synchronous and envelope detection.
c) FM: generation and detection.

5. Analog modulation with noise (5h).

6. Digital transmission of analog signals (5h)
a) Sampling of signals and Time Domain Multiplexing (TDM).
b) Pulse Code Modulation (PCM).
c) Delta modulation.

7. Digital transmission through bandlimited channels (3h)
a) Intersymbol interference and Nyquist's criterion.
b) Signal design.

8. Digital modulation (9h)
a) Signal spaces.
b) Optimal receiver in Additive White Gaussian Noise (AWGN).
c) PSK, QAM, FSK modulation schemes.
d) Receiver structures.
---
Problem sets :
1) 2.7, 2.22, 2.33, 2.50, 2.52
2) 2.62, 2.64, 2.65, 2.66
3) 5.11, 5.28, 5.36, 5.38, 5.40
4) 3.2, 3.6, 3.7, 3.11, 3.18
5) 4.4, 4.8, 4.12, 4.18, 4.20
6) 6.3, 6.4, 6.7
7) 6.8, 6.9, 6.10
8) 7.1, 7.4, 7.14, 7.15
9) 10.8, 10.11, 8.3, 8.7
---
Useful Links:
---
Messages

TERM TEST # 1
| | |
| --- | --- |
| Date : | Tuesday, Oct. 22, 2013 |
| Time : | 1:05-2:25 PM |
| Location : | Room ENGTR 0060 |
| . | . |
| . | . |
| Material : | 1) Class lectures : from Sept. 3, 2013 to Oct. 3, 2013 (including) |
| . | 2) Downloadable notes : set 1, set 2 |
| . | 3) Text book : Chapter 1, Chapter 2, Chapter 5 |
| . | 4) Problem sets : 1, 2, 3. |
| . | . |
| Type of test : | Closed books and closed notes. Only faculty calculator is allowed. |
TERM TEST # 2
| | |
| --- | --- |
| Date : | Tuesday, Nov. 19, 2013 |
| Time : | 1:05-2:25 PM |
| Location : | Room ENGTR |
| . | . |
| . | . |
| Material : | 1) Class lectures : from Oct. 3 to Oct. 29, 2013 (including) |
| . | 2) Downloadable notes : set 3, super-het, set 4 (pp. 56-66) |
| . | 3) Text book : Chapter 3, Chapter 4, Chapter 6 (6.1) |
| . | 4) Problem sets : 4, 5, 6 |
| . | . |
| Type of test : | Closed books and closed notes. Only faculty calculator is allowed. |
---

Downloads:


<![if !supportLineBreakNewLine]>
<![endif]>